این نوع از تحلیل درگیر یافتن دلایل تغییرات بوجود آمده در قیمت‌ها نیست؛ بلکه، به بررسی و تحلیل مسیر حرکت فعلی قیمت‌ها می‌پردازد.
۳ اصل تجزیه‌و‌تحلیل تکنیکی
حرکت و جریان بازار از تمامی عوامل تأثیرپذیر است
باتوجه به این اصل، تمامی اطلاعات و داده‌هایی که بر قیمت یک کالا تأثیر می‌گذارند،‌ در قیمت و حجم معامله آن کالا به وضوح نمایان هستند. لذا، دیگر دلیلی برای بررسی وابستگی قیمت بر مواردی چون عوامل سیاسی، اقتصادی و مواردی دیگر از این قبیل باقی نمی‌ماند.
حرکت و جریان بازار مطابق با روندهای جاری پیش می‌رود
نوسان قیمت‌ها به‌صورت اتفاقی و تصادفی رخ نمی‌دهند، بلکه این نوسانات در پی جریانات، روندها و تمایلاتی مشخص رخ می‌دهند. به‌همین خاطر بازه زمانی تغییر و نوسانات قیمت را می‌توان به مقاطع مختلفی تقسیم کرد؛ در طول این بازه حرکت بازار در مسیرهای مشخصی خواهد بود.
تاریخ، تسلسل تکرار رویدادهاست
ازآنجایی‌که نوسانات و تغییر قیمت‌ها انعکاسی است مستمر از روان و نحوه فکر جمعیت بازار، منطقی است که از الگوها و مدل‌های گرافیکی تغییرات و نوسانات قیمت‌ها که بر پایه تحلیل‌های گذشته و قبلی شکل گرفته‌اند استفاده کرد. چراکه، بازیکنان عرصه بازار نسبت به شرایط مشابه، واکنش مشابهی خواهند داشت. همانطور که مشخص است، افزایش قیمت بسیار نرم و در طول زمان رخ می‌دهد برخلاف کاهش قیمت‌ها که یک‌مرتبه بسیار افت می‌کنند.
سخن بزرگان عرصه بازار سهام بورس

اگرچه بسیاری از افرادی که زندگی شخصی و حرفه‌ای خود را وقف ارائه تحلیلات تکنیکی کرده‌اند بر این باورند که نسبت به دیگر بازیکنان و فعالان حوزه بازار برتری دارند، همه محققین بر این باور نیستند. هستند بسیاری از سرمایه‌گذاران موفق که انتقادهایی بر این نوع تحلیل و خوانش وارد می‌کنند.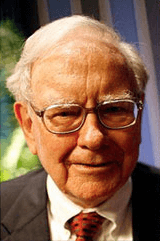 -از آن زمان که متوجه شدم زمانی‌که نمودار‌های قیمت را برعکس کنم باز هم نتایج همان خواهند بود، فهمیدم که بررسی‌ها و تحلیل‌های تکنیکی چندان هم مؤثر نیستند و جواب نمی‌دهند.

Warren Edward Buffetیکی از بزرگ‌ترین و مطرح‌ترین سرمایه‌گذاران جهان، که سرمایه او از سال ۲۰۱۰ میلادی برابر با ۴۷ میلیارد دلار تخمین زده شده است.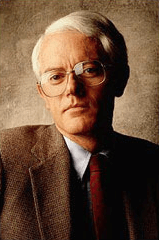 -نمودار‌ها درواقع ابزاری فوق‌العاده برای پیش‌بینی گذشته‌ها هستند.

Peter Lynchسرمایه‌گذار و کارشناس مالی آمریکایی. مدیریت صندوق بودجه فیدیلیتی مَگِلِن در سال‌های ۱۹۷۷ تا ۱۹۹۰ برعهده این کارشناس مطرح بوده است.
زمانی‌که یک تحلیل‌گر منحصرا تکنیکی را با تحلیل‌گری که صرفا برپایه داده و اطلاعات فعالیت می‌کند مقایسه می‌کنید متوجه می‌شوید که هر دو آن‌ها به یک اندازه آسیب‌‌پذیر هستند و ممکن است دچار اشتباه شوند.
برخلاف تمامی انتقادات وارد شده، استفاده از تحلیل‌های تکنیکی در قالب یک ابزار تکمیلی را همچنان نیز می‌توان شیوه‌ای ضروری برای تأیید ارزش و قیمت باز (آغازین) معاملات دانست.
در قالب حوزه بازارهای مالی، نمودارهای قیمت چندان رایج نیستند. و دلیل این نکته هم در این امر مخفی است که از ابتدای شکل‌گیری و توسعه بازار سهام بورس، نتایج معاملات هر روز در روزنامه‌ها ذیل یک جدول با ۴ قیمت کلیدی منتشر می‌گردید:
قیمت باز (آغازین)
قیمت آغاز کننده معاملات در روز. این قیمت به اولین قیمت سهام ارائه شده در ابتدا و آغاز یک بازه معاملاتی اطلاق می‌شود.
حداکثر قیمت (قیمت بالا)
یعنی بالاترین قیمتی که در طول یک روز در بازار معاملات بورس به آن می‌رسیدند.
حداقل قیمت (قیمت پایین)
یعنی کم‌ترین قیمتی که در طول یک روز در بازار معاملات بورس به آن می‌رسیدند.
قیمت بسته (پایانی)
قیمت پایانی بازار، یعنی قیمت آخرین معامله‌ای که پیش از بسته شدن بازار اجرایی می‌شود.
ثبت و انتشار تمامی این داده‌ها موجب بروز پیچیدگی‌هایی در طول این فرآیند بودند و بعلاوه بسیار هزینه‌بر! لذا، نمودارهای جدیدی بر اساس همین ۴ قیمت کلیدی بوجود آمدند که اطلاعات ضروری مربوط به نتایج جلسات معامله در بازار را میان عموم و فعالان این حوزه منعکس می‌کردند.
امروزه تنها دو نمودار به‌صورت رایج مورد استفاده قرار می‌گیرند:
Bar charts
(BARS)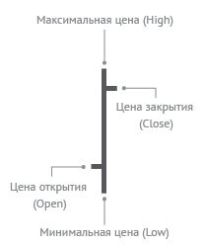 Candels
(JAPANESE CANDLES)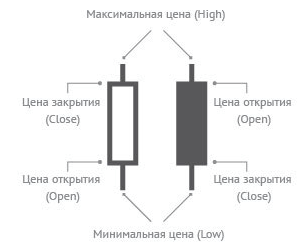 تقریبا ۲۰۰ سال پیش از اختراع کامپیوتر، نمودارها به‌صورت دستی بودند و در بسیاری از مواقع نمودارها تنها منابع و مراجع اطلاعاتی بودند که تحلیلگران نیز برای پردازش و ارائه نظریات و نتایج بررسی‌هایشان از آن‌ها استفاده می‌کردند. به‌هنگام بررسی و مطالعه برخی از این نمودارها گروهی از تحلیلگران متوجه شدند که سطح‌های قیمت نوعی الگو را شکل می‌دهند. زمانی‌که الگویی شکل می‌گیرد، قیمت‌ها نیز به‌طور معمول در مسیری خاص و مشخص حرکت می‌کنند. این نوع تحلیل را می‌توان آغاز تحلیل تکنیکی و اولین نوع از این تحلیل دانست – تحلیل گرافیکی/تصویری.
«The trend is your friend!»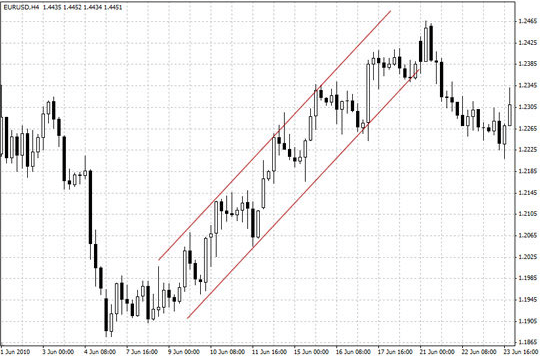 Trend — a currency exchange rate movement directed upwards or downwards. The task for many market players is to recognize the direction the market moves to.
Depending on duration trends are divided into following categories:
Long-term

(1 month – 2.5 years; chart timeframe: Месяц (MN), Неделя (W1), День (D1))

Mid-term


(from one to several weeks; chart timeframe: Н4, Н1)

Short-term

(from one to several trading sessions; chart timeframe: М15-М5)
According to direction trends are identified as:
Upwards – "bullish"
Downwards – "bearish"
Sideways – "Flat"
Within the frame of upwards trend every subsequent high and low must be higher than the previous ones, while in case of downwards trend the values must be lower than the previous ones. Flat trend is characterized by absence of directional movement up or down. Long lasting sideways movement might lead to sudden and dramatic price movement upwards or downwards.
Resistance and support lines
All trend lines and patterns of graphical analysis are, virtually, combinations of resistance and support lines.
Resistance line connects critical maximums (peaks, highs) of the market. It appears when buyers either cannot or do not want to buy a certain currency at a higher price anymore. Simultaneously, as price moves upwards, resistance of sellers start to increase and boost of sales occurs as well that also puts decreasing pressure on the price. An upwards trend gets stopped by and, so to say, bump into a kind of invisible ceiling, which it is unable to break through right now. If "bulls" come together or "bears" weaken their grip, the price would most probably break through a previously set resistance level. Otherwise, opposite price movement is inevitable (so called "retracement").
Support line connects critical minimums (lows, bottoms) of the market. Support lines emerge and exist in situations opposite to resistance lines situations, and this is where "bulls" change places with "bears". Sellers are active market players that push the price downwards and buyers are defenders here. High activity of sellers and low activity of buyers increase the chances that support line will be broken through and the price will go further downwards.
Trend indicators were designed for general recognition of market movement direction. Generally, every indicator is based in a mathematic formula, with the help of which it is computed.
Trend indicators include the following:
Average Directional Movement Index
Bollinger Bands
Moving Average
Parabolic SAR
Standart Deviation
These are the most common indicators available in MetaTrader trading terminal: menu "Insert" – "Indicators" – "Trend".
All other indicators are derivatives based exactly on these ones.
Generally, if you use a trend indicator, classical point to open a trade is crossing of a price chart and an indicator chart.
Moving averages
Moving averages are indicators designed as averaged price value. Visually, you might see that the moving average chart is smoother as compared to the price chart. This is because statistical noise present on a price chart due to random price fluctuations is eliminated.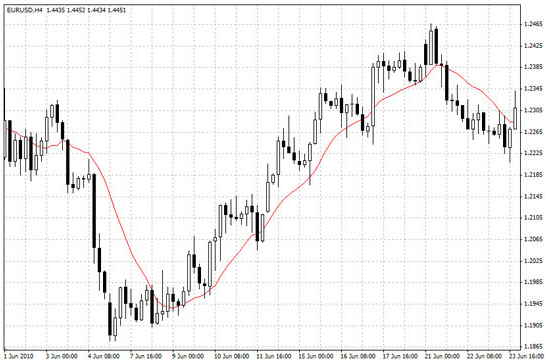 As moving average is plotted, you should take some specific characteristics of this indicator into account:
– In case of flat trend and if price fluctuates within a narrow range, larger indicator period should be set.
– In case of a strong trend moving averages with large period settings will always be delayed.
– A moving average with a small period quite often will provide false signals, which is due to large losses.
– As we mentioned before, the larger period settings we choose for a moving average, the less sensitive it will be to price changes.
Moving average analysis rules
1. Search for intersection points of a moving average and a price chart. If the moving average crosses the price chart from the bottom upwards, it's a signal to buy. And if the moving average crosses the price chart from top downwards, it's a signal to sell.
2. Indicator's direction indicates direction of a major trend.
3. Search for price points following high and low of the moving average. Probability of trend change.
4. Search for points of maximum divergence of the average and the price.
5. The main rule! In no case it's allowed to open trades against direction of a moving average, unless additional confirmation signals are provided by other indicators.
6. Moving average works properly in a trend market and is inappropriate in flat trend, for severe lag will generate a lot of false signals.
All patterns are formed by support and resistance levels. The understanding that patterns are formed by a trend line and horizontal support and resistance lines will help you to trade and recognize any patterns with precision. The first step to this is to recognize lines and levels of a pattern. Knowing exactly what to look for simplifies the task. One of the most common reasons many traders use chart patterns is that they are recognizable to a certain degree and have long become a part of our life. We all know what a triangle or a rectangle is. These shapes are familiar to us, so we can easily recognize them on a trend line. We also have aesthetic perception allowing us to distinguish "good" shapes. The use of this knowledge in financial markets seems convenient. And operation within such an area of convenience gives a trader confidence to make decisions basing on the shapes he saw.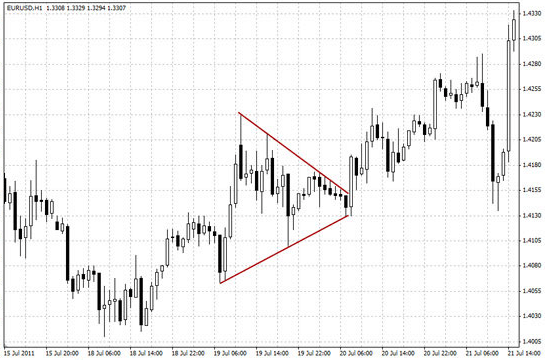 However, there is a higher level of chart pattern analysis. In case a trader realizes that symmetrical triangle is upwards and downwards trend lines converging in one point, he can use this knowledge to predict breakouts.
Confirmed trend line breakout is the simplest signal to enter the market.
This is what traders using triangles do.
It's much easier to figure out support and resistance levels forming a rectangle, than to recognize a wedge, a ascending or descending channel. However, it's not complicated as well, if a trader knows, which lines and levels should be paid attention to, and what kind of market allows the pattern formation: trend or flat. You will be able to recognize patterns even more precisely, if you know market cycles, within which this or that pattern usually appears.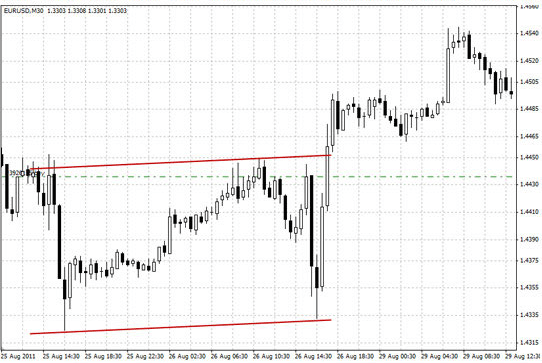 On this rectangle pattern you may notice a double bottom formed by two tangency points. It shows us horizontal support line. Determining tangency points for a descending wedge pattern (below) is much different from the example above. The wedge is formed within trend market, therefore descending trend line for descending wedge and ascending trend line for ascending wedge should be paid close attention, for they form the basis for the pattern.
Trend market indicates a continuation pattern, nevertheless, opening trades at reversal points of ascending and descending wedges, as well as ascending and descending channels, might be extremely advantageous if properly prepared for. Therefore, recognition of wedges and ascending/descending channels formed within the frame of ascending/descending markets is as important as recognition of symmetrical triangles and rectangles within the flat market.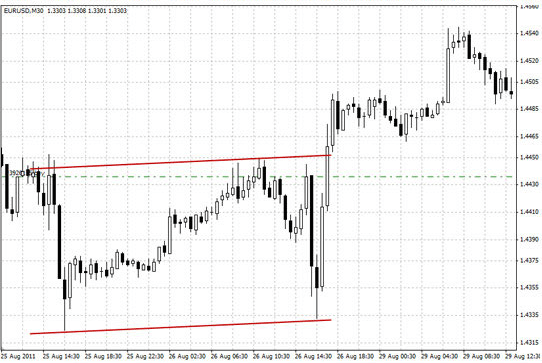 The difference between trend reversal and continuation patterns
There are historical currents indicating whether a pattern is a continuation or reversal pattern. Let's discuss, what reversal patterns and continuation patterns are.
Trend reversal and continuation patterns correspond exactly to their titles. Important factor that should be considered to determine a pattern type is a trend it's preceded by. No matter whether it's bullish or bearish, but persistence and duration of preceding trend partially determine the type and formation quality of a pattern.
Remember, the title only indicates what usually happens to a pattern, but not what will actually happen. Mostly, whether a pattern will be of continuation or reversal type depends on a preceding trend.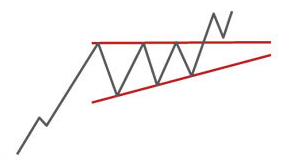 Classical continuation pattern is ascending triangle.
It's formed the following way:
Within ascending market at a certain point of time two tops are formed located at the same level, as well as two bottoms that together form ascending perspective. If they are connected by lines as shown on the picture, we get the ascending triangle.
In most cases, once this pattern is formed the market keeps moving further. At that, importantly for traders, this pattern allows determining a so called target, i.e. a point the market will get to after breakout of the pattern. Distance to the target equals to length of the triangle's base, drawn up from the breakout point.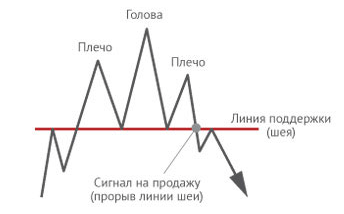 Classic reversal pattern Head and shoulders.
It's formed the following way:
Classical reversal patterns is a shape called "Head&Shoulders". Within ascending trend it look the following way:
In case the market moves up, at a certain point of time several tops occur together forming a shape resembling head and shoulders of a man. The line called "neck line" comes through the head's base points. The "neck line" is crucial for recognizing this pattern. The case is that if this line is broken through in opposite direction, most probably soon the market will reverse, and, as in the case with the triangle, it's possible to predict a target the market will most probably get to. Distance to the most probable target equals to line drawn from the head's top to the neck line. Thus, graphical analysis helps to find moments suitable to make a trade and predict probable market movement.